Consider Planting a Row for Those in Need!
Find this article at:
go.ncsu.edu/readext?519251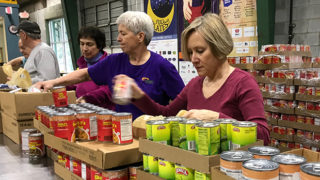 MANNA FoodBank invites gardeners in the region to join us in the work to end hunger in WNC by participating in the Plant a Row Campaign.
Initially launched by the Garden Writer's Association, Plant a Row is a program that encourages local gardeners and grower networks to either plant extra produce in their garden specifically designated to share with neighbors in the community experiencing food insecurity, or to reach out when there is excess harvest to share. MANNA's Plant a Row campaign will start at the beginning of the planting season and continues to welcome all harvested donations throughout the year.
Gardeners in MANNA's 16 county service region who sign up to participate as a Plant a Row donor will be directed either to MANNA or get connected directly with one of our partner agencies in their respective county that are accepting donations, depending on the donor's preference and location. MANNA can accept PAR donations M-F from 8:00 a.m.-12:00 p.m. and 1 p.m.-3:30 p.m. We encourage you to reach out to Justine Redden at MANNA if you would like to participate as a Plant a Row garden donor and get connected with MANNA or a local agency that is accepting donations.
During the 2016/2017 year, 34% (4.2 million pounds) of the food MANNA distributed consisted of fresh produce. This is due to both our increased ability to safely store and handle the produce and the increasing efforts towards programming that promotes nutrition access. Participating as a PAR donor has the potential to increase access to nutritious foods that are not always available to our clients and provides sustainable food sourcing.
If you would like to participate as a Plant a Row donor, donation recipient, or would like to learn more, please contact the Food Drive Coordinator at: jredden@mannafoodbank.org or (828)299-3663 ext. 1248